Edgar Adventures
EDGAR ADVENTURES, Innovation and creativity at your service for 16 years We provide you with unique products and new routes through; Cultural, spiritual and adventure travel.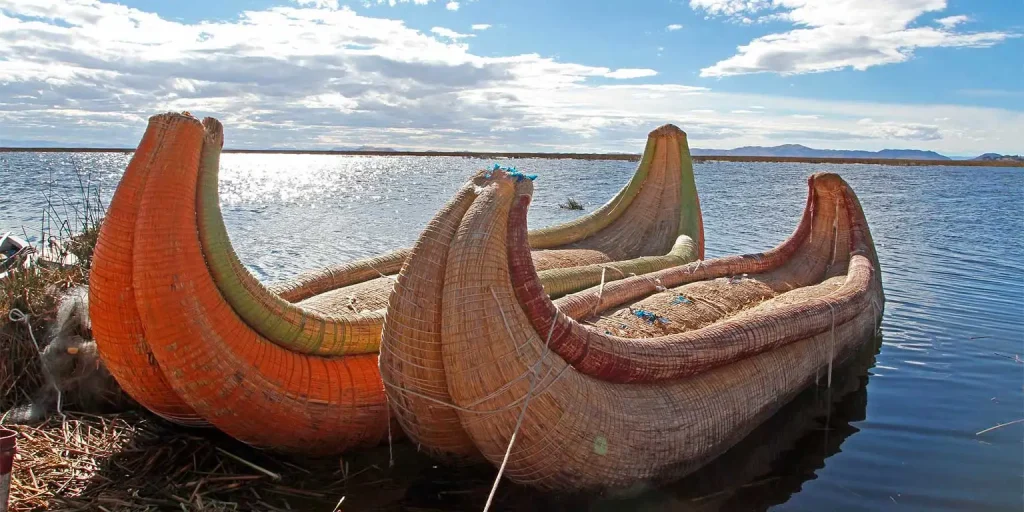 A great team supports us with 21 professionals in Tourism and the most capable staff of Guides to ensure a "reliable" organization and execution of Tour Programs on Lake Titicaca. In addition to an automated reservation system ensuring a rapid response within 24 hours.
We offer you a suitable infrastructure;
(4) new buses with nationwide circulation permits, GPS, SOAT
(1) Latest generation speedboat for 40 passengers, with 2 electronic engines , 280hp each (35 km/h).
(2) Semi-rapid fiberglass motor boats with reclining seats, toilet & microphone (18 km/h)
Make the difference and join the experience of "Titicaca Express" An exclusive product for discerning travelers. Daily departures for an exceptional tour.
Comfort, unique visits; definitely the ultimate cultural tour. (Exclusive)
We introduce you to the "Titicaca Kayaking Company", our exclusive division for unique sea kayak trips on Lake Titicaca.
(20) Professional kayaks: 15 doubles and 5 singles, top quality, complete equipment
(01) Support / rescue boat, equipped with radios.
(06) A.C.A. Certified (American Canoe Association) Guides.
We are recommended as first choice in various International Guides such as: Lonely Planet, Rough Guide, Foot Prints, Moon guides, Fodor's , Andean Travel Web, trip Advisor among others with the support of thousands of satisfied customers.
We have the confidence of important Peruvian and foreign tour operators. Our awards as the best local operator 2004, 2005, 2007, 2010 shows that we continue leading the Tourism market in the Puno region.
Thank you for trusting
EDGAR ADVENTURES
with your business! & Your holidays
Sustainable Tourism
The essence of Edgar Adventures is to practice sustainable tourism operations in our journeys. Responsible tourism & sustainable tourism are very positive concepts, but these are becoming very much overused terms as marketing tools for big and small tour operators alike.
Being socially responsible in tourism does not only mean to be the channel for occasional donations or bringing some bread to "the poor" at Christmas. In the end, that might create more dependence. Being socially responsible and low-impact in tourism means; to participate actively in the protection of delicate societies and eco systems we visit & to be capable to produce a "Positive Impact" and "Low-impact". That is only possible through a deep understanding and respect of the local cultures and nature. Below there is a small description of our humble and silent contribution on this matter.
Sustainable & responsible projects
Edgar Adventures has led & sponsored many communities to gain a start in the tourism industry but with a solid base in sustainable and socially responsible tourism.
Ticonata Island a rediscovered jewelTiconata is a small beautiful island on a hidden spot at Lake Titicaca.on 2004 we had the commitment to start a community based tourism project there, but the island was almost depopulated. Its inhabitants had gone to inhabit the nearest shores and from there the young started to migrate away looking for better life. On the spring of the same year we brought the first experimental group of tourists, right after our visit some islanders offered to sell us big sections of the island and we felt tempted to start a private project. However it was against our idea to start a unique community based project, so later in a communal meeting we recommended them to include in their internal regulations, certain limitations like: "it is not allowed to sell land to foreigners, and only the communal business will be permitted" in this manner we assured the future and sustainability of our project and assured the benefits of tourism to stay on the island.Immediately we started the "Ticonata Community Based Project". Our condition was to work with everybody together. Using the ancestral principle of "Ayni". "Give and Receive", we directed them to build a small eco village in remembrance of pre-incan houses and make them aware of the facilities and services they could offer to visitors. Everybody worked together like ants to build an Eco Village. Today our clients have the chance to experience a night in this unique off-the-beaten-path destination full of authentic culture and great landscapes. But the most impressive thing is to observe the positive impact our project has produced:

When the project began, the island was practically depopulated. Today some families have returned to their birthplace, to inhabit it; they have found a new opportunity in tourism.
The island had a disintegrated community, but today 25 families have reorganized and rescued their ancestral community principles, and use them to administrate a new project like tourism and make it a democratic and fair activity. Nowadays, the Ticonata project is one of the most successful Community based projects in South America.
Another remarkable aspect is that the Ticonata Islanders have started to recover their ancestral arts craft, music and dances that were becoming extinct. In our project we encouraged them to display and show only their most authentic cultural background. Today the young are learning about their own culture and traditions. And an ancestral culture was recovered.

We particularly recognize Daniel Diaz and Percy Flores, two experienced tour leaders, for their cooperation and commitment in supporting this project unconditionally.
Luquina a successful communal tourism based project.In March, of 2008 Edgar Adventures began a tourism community based project in Luquina, a community located on the Chucuito Peninsula. It is a privileged spot by nature and a place that holds an authentic indigenous community that deserved to be known. Our concern was how to not negatively affect this unspoiled area and start a real sustainable project without expiration date. We organized the community and made them aware of the importance to work together as a condition for a fair & sustainable tourism. Rapidly using By integrating the "Ayni principle"- "One for all and all for one" , they quickly understood the concept and helped each other to improve their home stay rooms and other facilities to receive visitors. Today Luquina is for sure one of the best off-the-beaten-track destinations where responsible and fair tourism have come true, in partnership with a private company. Since then our mutual cooperation has become stronger, and has produced remarkable positive impacts:

About 40 families are part of this community project, and gradually more are integrating into it with the aim to involve all the community members. Our project encouraged the preservation of cultural heritage by working to strengthen the community links.
Our project brought to the locals the possibility to produce economic income inside their own homeland, improving the quality of life for the entire community.
The authentic cultural manifestations of Luquina like dance rituals and art and craft works are displayed and showed to visitors in this way our project warrants the cultural continuity of all these manifestations.
We are actively participating in training the host families and equipping their home stays, it is a difficult task considering we have to work with numerous members, and recently we have equipped 40 home stay houses with new high quality mattresses.
Sustainable & Responsible Operations
As a socially and environmentally conscious Adventure travel company, Edgar Adventures is aware that responsible & sustainable operations on our tours are crucial to protect the local cultures & ecosystems we visit. Our commitment is to offer low-impact journeys and help the local economies.
Encourage the locals' cultural identity avoiding the dependence that donations or gifts might create, even a pencil or banana as a gift can create dependence.
Respect the local organizations and encourage them to maintain the traditional systems and help them face a new aspect like tourism but in their own way.
Not be an unfair competition against locals, and when possible use their local transport: motor boats, reed boats etc.
Encourage the home stay type of accommodations as an alternative to fight against poverty and recover the pride of the local culture.
Use low-impact type of transport like kayaks, horses, and bikes and include treks that give the traveller a more direct contact with nature.
Educate locals and aware them of the importance to maintain a healthy and clean environment, all our guides constantly inform locals about being ecologically friendly.
Take all our non-degradable garbage back to the city from all our trips.
Employ local boat skippers, drivers, guides, and staff.
Maintain all our units of transport in optimal conditions to avoid unnecessary emissions.
Actions & Initiatives
Chimneys project & Improvement of local health.In Andean kitchens, chimneys are not used. By cooking with firewood in confined spaces, the fumes are very harmful to the lungs. In fact high percentages of tar can be found in the local people lungs. It affects not only the mother, but all the family. In 2005 we began an ambitious project. "Installing chimneys in the traditional kitchens" which so far has benefited over 150 families on Amantani Island & Luquina.
Bring a Book, bring a brick, bring a smile project.Since 1996 we have brought support into many schools like on: Amantani Island, Taquile Island, Ticonata islands and the peninsulas of Capachica & Chucuito, Through our "Bring a Book, Bring a brick" project many schools have been painted and fixed up, thanks to the commitment of many volunteer travelers.
Dental care campaignsDue to the fact that some visitors very often bring candies and sweets to children it has resulted in dental problems in kids becoming a serious situation. Edgar Adventures in partnership with Dental Lounge (Lima dental care specialists), have sponsored and promoted dental care campaigns on Lake Titicaca islands and Luquina. Instructing kids how to take care of their teeth.
Cleaning campaignsSince 1996 and annually every Earth' Day we organize cleaning campaigns on Amantani & Taquile islands, and with the participation of the local guides, motor boat skippers and islanders, have collected literally heaps of plastic bottles, candy wrappers, used batteries and transported it into the Puno's city recycling centers, to give this garbage a better end.
Improvement of tourism services in Luquina, mattress campaign.In the winter of 2009 we have sponsored the Luquina community by equipping them with 40 brand new mattresses. It was a big effort as a company but an important action in order to improve the quality of the tourist services and local people economy, a particular recognition to Norka Florez, for her goodwill commitment.
Reconstruction of a pre-Incan path on Amantani island.In 2006 we were concerned about the gradual destruction of an original pre-Incan pathway on Amantani island and have encouraged the communities of Colquecachi & Occosuyo to reconstruct it. In exchange each of the 105 participant families received a thermos flask for storing hot water.
Amantani homemade pancakes cleanses environment.In 2004 in order to improve the food preparation and quality, we donated 80 High quality Teflon frying pans. But in exchange they collected the inorganic garbage, even the rubbish from remote locations taken there by the winds and people, (plastics, used batteries etc.) so that was a nice exchange, pancakes for our guests' breakfast in exchange for a cleaner island. (100% self financed).